By Thomas Shayon Harrell
In 2015, when I became the talent development specialist at Master Electronics (serving as a one-person department overseeing more than 400 employees), I quickly faced a stark reality.
Learning professionals and their beloved learning management systems (LMS) were no longer the center of the learning and development universe. Frankly, this was a blow to my professional ego, and I wondered if I'd taken on a new role that would cease to exist in five years.
A few features of the industry informed this interpretation:
The speed of change at my company
The rate at which our employees pursued independent and self-directed learning
The fact that the LMS forced employees to put aside pressing work when they needed to learn something
Then, it clicked.
It wasn't that my role as a workplace learning professional was dying — rather, it was quickly changing shape.
I began sharing my thoughts with the larger L&D community on various podcasts and blogs, including The BizLibrary Podcast. The idea was simple: build a learning ecosystem. When I Googled that phrase awhile ago, only a few results appeared. That's no longer the case today.
And yet, the question remains: what is a learning ecosystem, and why should L&D professionals care?
What Is a Learning Ecosystem?
A learning ecosystem is a comprehensive suite of learning solutions that give learners choice and flexibility. The ecosystem extends well beyond the walls of a traditional LMS, and it supercharges employees' self-directed learning.
The learning ecosystem takes what may seem like disparate modalities and unconnected systems – instructor-led training, virtual instructor-led training, self-guided learning, self-directed learning, and/or attending an in-person training event – and ties them into an elegant learning solution.
This ecosystem captures learning where it happens (including your existing LMS) and adds progress to employees' learner records for tracking, performance management, and record-keeping.
Three words come to mind when I think of a healthy learning ecosystem: "fast," "frictionless," and "friendly."
Here are various definitions from others in the L&D field:
---
"A learning and performance ecosystem enhances individual and organizational effectiveness by connecting people and supporting them with a broad range of content, processes, and technologies to drive performance." – The eLearning Guild
"The symbiotic learning relationship between an employee and an organization." – Harvard Business Review
"A learning ecosystem is a collection of people, processes, and tools that deliver, integrate, and support the L&D function across your organization. Every organization has a learning ecosystem, just like every business has a culture, whether it was formed intentionally or not." – Rose Benedicks of Training Industry, Inc.
---
To wrap this section up, I'm asking you to think about your own organization and what a holistic approach to learning might look like within it.
Imagine this without limitations.
What would you build to enable learning, help your company meet and exceed its business goals, and serve your team members to enhance their on-the-job skills and personal lives?
You don't need to follow a template for this – many practices in learning and development have different applications from one company to the next.
Whatever your imagination just conceived, that's your learning ecosystem.
Key Element #1: Mindset Shift
First, I acknowledge that learning ecosystems aren't new, but like many things in the workplace learning profession, we've taken something old and made it new.
What I mean by that is what Rose Benedicks mentioned above: "Every organization has a learning ecosystem, just like every business has a culture, whether it was formed intentionally or not."
We all use some type of structure to deliver learning to our employees, and we all exploit different modalities to make it happen.
But…
The world is an ever-changing place.
If you've been in the L&D profession for 20 years or more like I have, you remember that as a learner, your only option was to attend a live training at work, and you took your agenda with you as a reminder.
Email was a new thing. At home, your choice of television was limited.
The world was a different place.
Today, my teenage daughter has access to hundreds of channels of entertainment, music, and communication options, all glued to the palm of her hand. The same applies to younger professionals looking for jobs with our companies — they were raised in a world where they've known this level of choice in many areas of their lives.
This presents a challenge to the workplace learning professional.
I used to be a Microsoft Certified Trainer, and I'll never forget an experience during one of my training sessions.
One of my learners asked a question, and I didn't have the answer on hand, so I did what any trainer worth their salt would have done: I wrote the question down on my whiteboard. Before I could finish writing it, another learner went online, typed in the question, and offered up the answer to the entire class.
That day I knew my L&D role was undergoing a tectonic shift.
"We must step up to the plate and redefine how we help our team members and companies thrive in the competitive marketplaces of this new technological age of frictionless self-service."
The first key element is the changing of our mindsets as workplace learning professionals. We must embrace the reality that the employees we support don't need to wait for us to deliver training to help them solve a business problem or enhance their skills.
Technology has democratized our profession, just like every other profession and industry. Now, we must step up to the plate and redefine how we help our team members and companies thrive in the competitive marketplaces of this new technological age of frictionless self-service.
But that doesn't mean we have to wholesale abandon everything we've done. That is, the proposition isn't an "either/or" deal; it's an issue of finding the right balance of what "and" looks like in your organization.
A mindset shift is the first element to building a learning ecosystem because without it, a learning leader wouldn't even be open to new possibilities.
Key Element #2: Let's Think "And"
My thesis is that L&D professionals need to augment what we do as learning professionals. Below, I've made a little checklist to illustrate the tasks that are required of modern and effective training program managers.
Sound instructional design (still needed)
Various delivery modalities (still needed)
Building learning to help your organization reach its business goals faster (still needed)
A different way of approaching learning (now needed)
Instead of asking yourself how you can give employees a frictionless learning experience that interferes with their work as little as possible, ask how you can enable learning experiences that empower your employees.
The mindset shift to the "and" elements means embracing new methods rather than being the center of your employees' learning universe. It's about creating an environment that allows them to learn, even if that means you're not actively delivering the training content you previously have throughout your career.
"Ask how you can enable learning experiences that empower your employees."
A simple example of this at Master Electronics can be seen in how we leveraged our product managers' expertise. These product managers are geographically dispersed across the United States and in parts of Canada.
By implementing a dedicated Zoom chat group that empowered them to more easily communicate with the entire product management team, no matter where product managers are physically, if they need to tap into the collective experience and expertise of their peers, they're only a few clicks away.
See what else you can do to empower your employees to stay engaged in our infographic "What Drives Employee Engagement."
Key Element #3: Say Yes to Technology
Using Zoom is a small and simple example of enabling learning, which brings us to our next key element!
Yes, technology is part of the learning ecosystem. But again, leveraging technology to enhance the effectiveness of training isn't new.
And just like in the past, as L&D practitioners, we must thoughtfully use tech to help the business and learners. Technology must fit into the broader business and learning strategies in order to have the intended impact.
One of the most exciting developments in the training industry since the appearance of elearning is xAPI.
In my opinion, this tech is the key to the development of the learning ecosystem. Let's look at why.
Maybe your organization has more than one of the following:
A human capital management system
A talent management/talent performance system
A learning experience platform
xAPI holds the promise of connecting these (most likely) unconnected systems so that they can talk to one another.
When our disparate systems communicate with one another, in this case about our learners, the information relevant to that individual learner should be housed in a single place, which brings us to the learning record store (LRS). Note the part of the Wikipedia article I've quoted here:
"LRS's offer the ability to create very in-depth elearning analytics because of the large amounts of learning data they record and store. Traditional elearning specifications like SCORM are limited to storing simple data points such as a final score, or that a course has been started or completed. With the statement structure that the LRS records, there are many data points that can be reported against."
Here are some questions to ask yourself.
How often do you Google something?
How often do you look something up on YouTube?
How many podcasts have you listened to over the past year?
What books have you read over the past year?
What articles, white papers, or products-and-services materials have you read over the last quarter?
How many instructor-led-training events have you attended in the past six months, and of those, how many did you facilitate?
How many courses did you take in your company's LMS over the past 12 months?
There are so many data points to capture. We're all learning all the time. Why?
Because that's what it means to live in today's world. Likewise, our employees are constantly learning from the above-mentioned sources and more.
Technology now holds the promise of capturing and logging an employee's learning, regardless of where it takes place. Here's a practical use case to demonstrate how organizations can use a learning ecosystem that their workplace learning practitioner has enabled:
Case Study
---
Madison is the manager of a creative development team, a subdivision of the marketing department in her regional winemaking and distribution company.

Two months ago, she and her team of three (Chris, a tenured developer; Paul, a mid-career content specialist; and Abigail, a very talented graphic designer with larger career aspirations) attended a leadership development workshop facilitated by Keshia, the company's senior talent development manager. It was a nine-day course spread across three weeks and accentuated by four weeks of micro-reinforcement. This learning event was added to all employees' learning records in the company's learning ecosystem, dubbed Wine & Dine Learning, through a user-friendly interface that the LMS administrator manages.

Once each employee completed the required learning reinforcements, they clicked a button and captured that learning activity, thereby adding it to their learning record. At the bottom of the final micro-reinforcement, additional learning resources were available to help employees dive even deeper into effective leadership skills development. These resources included items like podcast links, articles, ebooks, book summaries, and video-based interviews with well-known company and industry leaders.

Before Madison's monthly one-on-one with Abigail (one month after the completion of the final leadership training learning reinforcement), she reviewed Abigail's learning record and noticed that during and after the leadership workshop, Abigail spent considerable time learning more about becoming an effective leader. Madison's company was launching a new marketing imperative for its hard beverage line and was looking for a creative manager to lead that new team. Armed with the learning record and company objective, Madison raised the idea that Abigail could lead this new project team.

Now, use your imagination to finish this story yourself.
How do you think Madison, as a leader, felt in this situation?
How do you think Abigail might have reacted to Madison bringing the topic up?
The point I want to make here is that the ecosystem enables learning professionals to support learners in ways we couldn't before, and all the core capabilities of this profession are still essential to what we can do within the context of this new technological age.
Creating Your Learning Ecosystem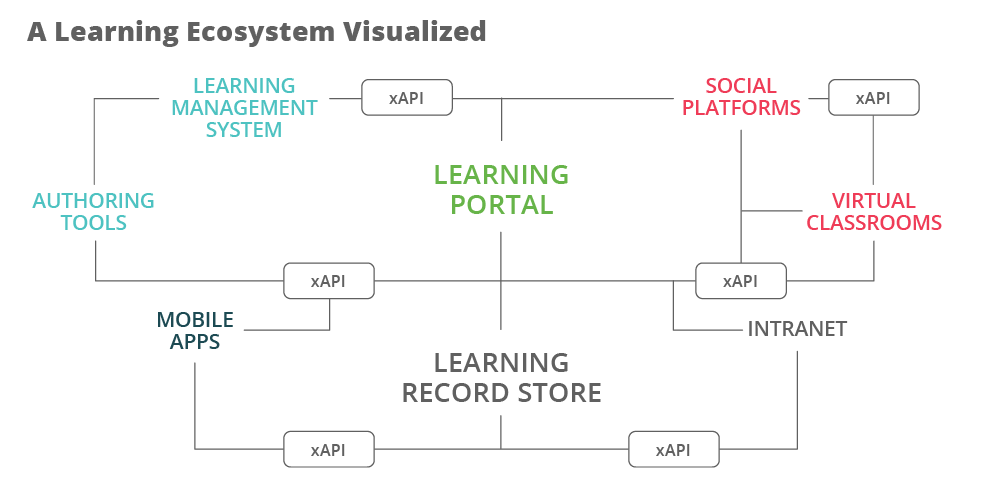 The ecosystem you build to supercharge your organization so it can reach its business goals doesn't have to resemble the image above. Maybe you'll have more or fewer components. Remember, it depends on your company's needs.
Giving our employees a learning experience that is fast, frictionless, and friendly doesn't make us obsolete.
As L&D professionals and leaders, we must still bring to bear all our professional and technical prowess to give the ecosystem a human touch, even though elements of the experience will be as easy as watching a movie on Netflix. We still need to create, maintain, and update our learning ecosystems.
Let's fully embrace this exciting time in L&D to deepen our rapport and reach out to our team members and executive leaders so that we can partner with them to achieve bigger goals in ways that we only dreamed of before.
Additional Resources
If you're looking to improve your L&D effectiveness, check out this ebook to learn the skills that will help your training program and your career continue to grow:
Thomas Shayon Harrell is a learning and development specialist and leverages his experience at Master Electronics as the Learning and Talent Development Manager (a Certified Professional in Training Management – CPTM). In his role, he works to deliver learning experiences that help his organization reach its business objectives.