When you're looking at options for training your employees – whether it's just for compliance or you're looking to build a learning culture or solve complicated challenges – there's always one question that's top of mind throughout the buying process:
How much will it cost?
If you've been looking at training solutions for any amount of time, you've probably discovered that the pricing question can often be pretty convoluted, and that's simply because there are so many options out there.
In this two-part series, our aim is to bring you clarity and confidence on the subject of pricing for online employee learning solutions.
In part one, we'll help you understand the basic components you'll need for training employees online, the different types of solutions available, and how they generally compare on pricing. In part two, we'll get into various pricing structures and some ballpark cost ranges for different scenarios. Read part two here.
To illustrate how these elements all work together, we'll envision your training program as a house and explore how making it successful and effective aligns with making a house into a home.
Hopefully this all gives you a better idea of what to expect during your search for online training solutions!
Here's a breakdown of what we'll cover in part one (click to jump to a section):
Starting the Search for Solutions
The Basic Elements of Online Training

Partnership
Platform
Content

Comparing Types of Platform Providers

Learning as Part of an HR Suite
Separate Learning Platform and Content
Bundled Learning Platform + Content

Options for Online Content

Building Your Own Content
Paying for Individual Courses
Licensing Topic-Specific Libraries or Course Bundles
Licensing a Comprehensive Content Library
Starting the Search for Solutions
When you're in need of a training solution, price is not the place to start. Business goals are. We can't tell you how many times we've seen companies trying to make purchase decisions for training without really knowing what it is they're after. Getting clear on your business goals and how training can be used to support those goals should be your starting point.
We talk more about understanding training goals and how to tie them to organizational goals in this post and this podcast episode.
How you envision training and development getting started or growing in your organization is going to help guide you toward the best online learning solution for you. Before you spend hours digging through details from various training providers, it'll help tremendously to know your vision for employee training over the next one, five, and 10 years.
Then comes the tricky part – aligning that vision to the budget you've been given (or will have to get buy-in for). In an ideal world you'd be able to decide on what you want and then go for it, no matter the cost. But 99% of the time, there are going to be some budgetary parameters to consider.
This is exactly why you're taking the time to carefully evaluate different options – because you need to know you're getting a solution that's going to be worth the money and affect change in your organization.
So let's dive into these online training solutions and how pricing compares for different options.
The Basic Elements of Online Training
For online training to be truly successful in your organization, there are three basic elements you'll need to consider. To illustrate how these elements all work together, we'll envision your training program as a house and explore how making it successful and effective aligns with making a house into a home.
To have a complete online training solution, you'll need a platform to be your hub for training and reporting, learning content for your employees to engage with, and a partnership with your provider to ensure your entire program is well-supported.
So, let's look at each of these elements a little closer!
Partnership: The Supportive Structure of Your Training Program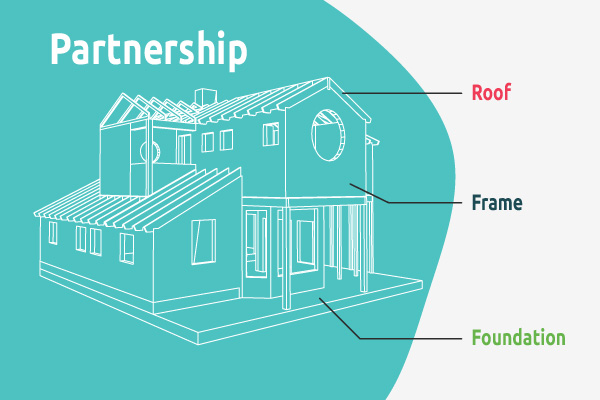 When you're looking at a house, it's probably safe to say the structural aspects aren't the first thing you notice. You're more likely to first see the aesthetic aspects, like if it has brick or siding, the color of the front door, the style of roof, etc.
But if you're looking at buying that house, the most important thing to consider is the condition of the structural elements. If the foundation is weak or there's hidden damage, the entire house could be in jeopardy, and at some point it'll end up costing you significantly.
Looking at online training solutions, it's easy to pay the most attention to the platform and content, but from what we've seen over our 25-year history in the training industry is that you cannot compromise on the service aspect of a solution if you want your investment to pay off.
For your training house to be well-supported, you need more than a vendor or service provider – you need a partner.
A strong partnership means providing things like:
Thorough implementation and product training
Fast and knowledgable technical support
Options to streamline technical or IT needs
Listening to customers' evolving training needs and acting on them
Ongoing strategic support to help you make training more effective and enjoyable
When looking at different solutions, you may see terms like "strategic support" or "partnership" – but it's important to understand what each provider means when they tout that level of service.
At BizLibrary, our partnership with clients is the foundation of how we operate – that's why every client has a go-to Client Success Manager who they can check in with monthly to discuss things like:
Creating and tracking goals for their training program
How to use training to impact business challenges
Marketing their training program
How to increase utilization
With some providers, this kind of support is only offered during the initial setup or program launch, and then if you want any sort of ongoing help with your program strategy, you have to pay extra fees for it.
We decided a long time ago to offer this ongoing strategic support at no extra cost – no cracked foundations on our watch!
So, when you're evaluating the options, consider how the provider approaches service – is every client given guidance for their program and a voice to have their specific needs addressed? Or is that only available when you pay more for it? Are you getting a strong supporting structure when you buy the house, or will you have to put in extra money to make sure everything is stable and secure?
Platform: Uniting Form and Function in the L&D Space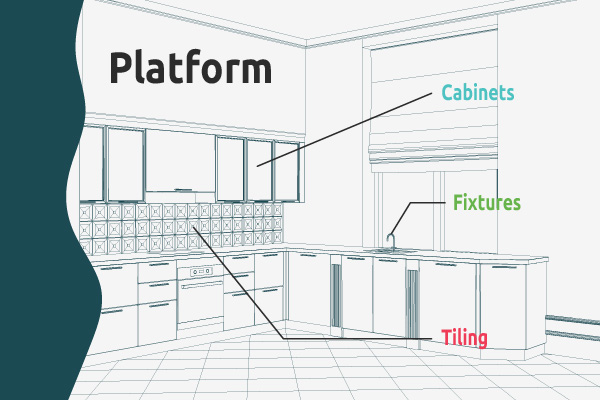 The learning platform you choose is going to play a big role in the overall experience for employees engaging in your training program. It's also going to determine how easy, smooth, and pleasant it is for administrators to work on everyday upkeep and building of the program.
With the platform, think of walking into an empty house and noticing how all the aesthetic elements come together – flooring, paint, cabinets, fixtures, tiling, windows, doors, etc. You'll want to look for a cohesive and up-to-date feel, practicality for everyday use and maintenance, and an overall style that fits what you like.
Just like there are lots of options for interior design in a house, there are lots of online platform options for training, developing, and managing employees, with a wide variety of features available. And just like the quality of design elements affects the cost of a house, the number and quality of features in a learning platform will affect pricing.
This is a market where "you get what you pay for" certainly applies, but that has to be considered against what you're looking to accomplish with training and development. Lower cost platforms generally mean less control over the way L&D happens in your organization, often correlating to less learner engagement and inability to tell if you're getting a positive return on investment. On the opposite end of the spectrum, if you're considering a platform designed for very robust training programs but you're not prepared to utilize all the bells and whistles, is it worth the extra cost for all those features?
As with the majority of things in life, balance is typically best.
BizLibrary's employee learning platform is designed to strike that balance needed by so many small and mid-sized organizations who want to grow – learn more about our platform and how it can fit your needs here.
Content: Bringing Employees to the Training Table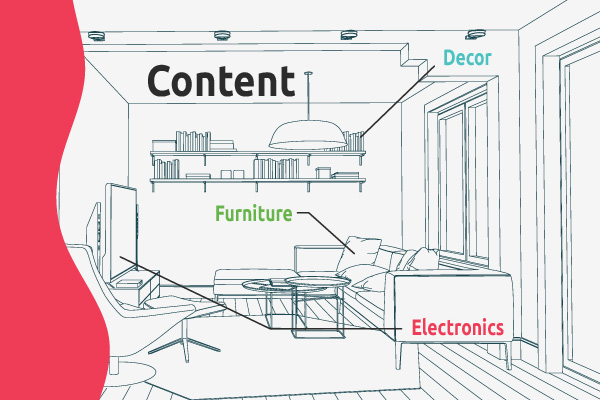 The third basic element of an online training solution is what brings your program to life. You've got a house with a sound and supportive structure, freshly painted, nice-looking floors and fixtures… but we're missing something. How about something to sit or sleep on? To store things or set things on? To work or play?
Content can be thought of as all the things that make your house a welcoming place to call home. Furniture, decorations, appliances, electronics, games – these are all the things that make your house more inviting for people, allowing them to engage with it in both practical and fun ways.
So, considering your vision for training in your organization, think about the kind of experience you want employees to have with the content you choose to provide them. Will your house be minimalistic, with just compliance and safety content? Or will it be something out of Better Homes & Gardens, with furnishings galore, covering every training topic your employees could need?
There are a lot of factors that determine the cost of furniture and décor, and similarly, pricing for content depends on many factors:
The amount you're looking for (a small set of courses vs. a full library)
Whether it's off-the-shelf or customized for your organization
The format of the content (click-to-advance elearning vs. video vs. virtual reality, for example)
How niche the topics are (super-specific vs. widely applicable)
Whether courses need to be continually updated to maintain accurate information
Buying courses vs. licensing courses
When determining content to purchase, the end goal is that it helps employees learn new behaviors and skills. For that to happen, they need to be actively engaged with the content, just as you would want guests in your house to interact with the things you've filled it with.
If you invited some friends over, would you feel okay with them sitting on the floor in a corner and not talking, or would you rather they joined you on the sofa and had a nice conversation? If they're just going to sit in the corner and not talk, what was the point of them coming to your house?
Investing in quality content keeps your training program from turning into a waste of everyone's time. You know learning is important, so to make your investment worthwhile, make sure your house is filled with interesting and engaging content that draws employees in.
At BizLibrary, we've made it our mission to produce and curate online learning content that employees love to engage with because we know any old content just won't do. We work with producer-partners, subject-matter experts, and instructional designers to deliver high-quality content that stays up to date with our clients' evolving needs.
Click here to learn more about our online training library and explore our available topics.
Categories for Platform Solutions
Now that we've gone over the three main elements of a complete online learning solution, let's take a moment to talk about the platform element – the interior design aesthetic of our training house.
There are lots of different home design styles out there – traditional, modern, contemporary, industrial, etc. And while there are categories to help define the overall look, those categories often become blended and blurred when put into practice. The same idea goes for learning platforms.
There are a few high-level categories for types of platforms, but there aren't any standard rules that platform providers have to follow with how they identify their products. That means within each of these categories, one platform could be very different from the next in terms of features, functionality, and capability (especially within the LMS category).
At a high-level, the categories you may come across with employee learning platforms could include:
Learning management (LMS)
Learning experience (LXP)
Skill development
Talent management
Our best advice here is to look at the overall capability offered by each platform to see if it fits with your training program goals. Some platforms will stay firmly in their lane, where others will offer a more blended approach, such as an LMS with additional skill development capabilities.
For example, BizLibrary's learning platform is generally considered an LMS, but it's also designed to provide the benefits of an LXP, and very soon will have options for streamlined, role-specific skill development as well.
Comparing Types of Platform Providers
When considering providers for a learning platform, there are a few different types to evaluate. We can think of these platform provider types as who is doing the design work for your training house.
Learning as Part of an HR Suite: The Diversified Designer
The first option is licensing an entire talent management system, where there are several platforms included, a learning management system being one of them. Sometimes this will include content, and sometimes that's a separate purchase. The main benefit of this option is that all your online HR-related data and systems are integrated with each other. That can be pretty useful, especially for large companies with thousands of employees to manage.
This type of system would be like hiring an interior designer who does work on a wide variety of projects – corporate offices, retail spaces, restaurants, hotels, etc. – and individual houses are just one of those project types. They're experienced with design work overall, but they're not specialists in the home design space. Their attention is divided, so the needs of L&D aren't always top of mind.
This type of solution often doesn't make sense for small to mid-sized organizations and is typically considered more for large businesses (5,000+ employees) – mostly because of the price tag that comes with it. Costs for this type of system go far above the cost of a solution that's more focused on training and development.
Separate Learning Platform and Content: Multiple Designers Working Together
Another option that many L&D professionals use is a platform from one provider and content from another. You'll find many "empty" LMS's that don't come with content included, and many content providers that will license their content without including a platform to deliver it.
Going this route looks like hiring a home design specialist to have all your contracting work done – the paint, floors, counters, fixtures, etc. but working with someone else (or multiple vendors) to get all the furnishings and décor purchased, delivered, and placed in the house.
Working with different providers for your learning platform and content has upsides and downsides. The biggest upside is that you get solutions super customized to your vision for your training program. You can choose the best platform you can find and not have to worry if their content is any good, and you can choose the content provider you like best without worrying if their platform has everything you need and is easy to use.
One downside to this option is it takes a lot of your time and effort to ensure everything is coming together the way you want it and to keep everything in budget, since there are costs coming from different places you'll have to keep track of. It also typically means more ongoing work for you, since you'll need to manage the process of keeping content up to date in your LMS.
As for pricing, this type of solution may not be as expensive as an entire talent management system, but it often comes at a higher cost than using an all-in-one solution that bundles the platform and content together. That's partly due to pricing structures, but also because of the extra time needed from you or your staff to manage multiple provider relationships and products.
We don't have to tell you how valuable time is as a resource, so when comparing pricing for different learning solutions, be sure to factor in the cost of time spent managing the content and platform. Especially if your L&D team is only one or two people (or if you simply prefer having a content library updated for you rather than doing it yourself), a bundled platform + content option is smart to consider due to time savings alone.
Bundled Learning Platform + Content: The Home Design Expert
The third option is having one provider be your go-to for bringing your online training vision to life. It's equivalent to working with one highly-specialized designer who listens to what you want and then executes that design by managing everything going into your house themselves. You hardly have to lift a finger because they've procured knowledgeable contractors for you and done the work of setting up all of your new furnishings and décor.
Think "Fixer Upper" for this type of learning solution – they consult with you to determine your wants and needs, then you're presented with a beautifully structured, designed, and furnished house that's ready for you to turn into a home and invite people in.
One of the most important considerations with this type of provider is that you're not sacrificing the quality of content. As we noted before, if your employees don't want to engage with the content they're given, your training program doesn't have a chance of getting the results you're hoping for. Yes, you need to assess if their platform has the features you need and if it's easy to use, but if their content is unengaging or outdated, employees aren't going to be interested in the training you're offering.
Think if you walked into a house with gorgeous floors and a fancy chandelier, but the living room furniture was stained and broken – how enthused would you be to sit and stay a while?
If you find an all-in-one learning solution that doesn't skimp on the platform or the content, this could be a great fit that's easier to manage and has a lower cost than using an "empty" LMS with content purchased separately.
For small and mid-sized organizations that don't need a ton of LMS functionality or customization, this would be a good place to start your research, then see how costs compare to options with the platform and content separate (keeping in mind the cost of your administrators' time, also).

Did You Know? Using BizLibrary's learning platform always comes with our award-winning content included!
Options for Online Content
Along with options for the type of learning platform you use, there are also have several options for the way you provide content to employees. So, let's look at a few categories for acquiring content – and of course, we'll compare these options to how you might choose furnishings for a house (because you're definitely not tired of this analogy yet, right?)
Building Your Own Content: A Time and a Place for DIY
Doing it yourself for your online training content is a big job. Think about all the things that go into a house – furniture, appliances, electronics, decorations, etc. – how much time would it take you to build or create all of that yourself? Would it even be feasible? Is your eye twitching just thinking about it?
The beauty of off-the-shelf training is that it allows instructional designers to focus their expertise on what matters most for their training program – typically that's any training specific to their organization, its culture, departments, products, or services.
For creating proprietary content, online authoring tools can make a huge difference in time and cost efficiency for instructional designers. These tools are designed with interfaces that make it simple to build engaging courses, and many can even allow your learners to create and share content as well – learn more about that in this article by Josh Bersin. Some popular course authoring tools include Articulate, Adobe Captivate, and Camtasia, among others.
For the more universal training topics that don't rely on proprietary or organization-specific information, instructional designers' time and talent can be optimized by using off-the-shelf content – find more details on that subject in this article.
Paying for Individual Courses: Living in the Lack of Luxury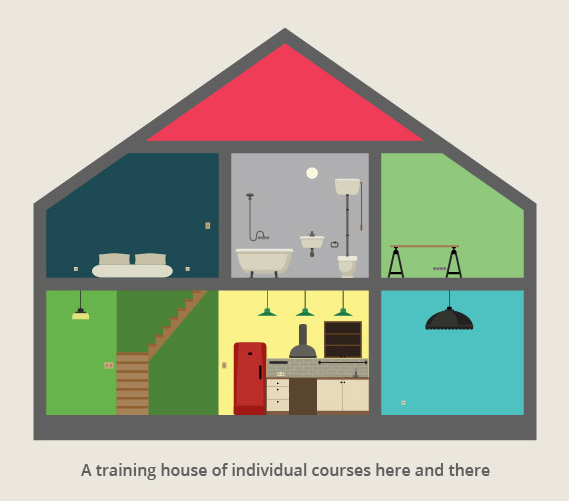 Sometimes you might be wanting specific courses for employees to fulfill a compliance requirement, maintain a certification, or learn a job-specific skill. In this case, it's often easiest just to search for that course so you can find a provider, pay for the course, have your employees take it, and you're done.
This solution works in a pinch if you're in danger of falling out of compliance, and depending on the course pricing, it could be a lower total training price tag than if you went with a larger library. However, paying for individual courses typically means a higher cost per course, which is not cost-efficient at all if you're wanting to build a training program that offers more than a couple courses here and there.
Consider living in a house with just a few high-end necessities here and there – a fridge, a mattress, a desk – probably not as enjoyable as a fully-furnished house with quality items that don't break the bank. Sure, your fridge is state-of-the-art, but your guests have nowhere to sit.
If there are specific courses you know you'll need on an ongoing basis, it would be worth looking at some library options to see if they carry those courses. Otherwise, you could end up paying the same amount for just a few courses as you would for a library with hundreds of course options – wouldn't that be a bummer!
Licensing Topic-Specific Libraries or Course Bundles: The One-Room Wonder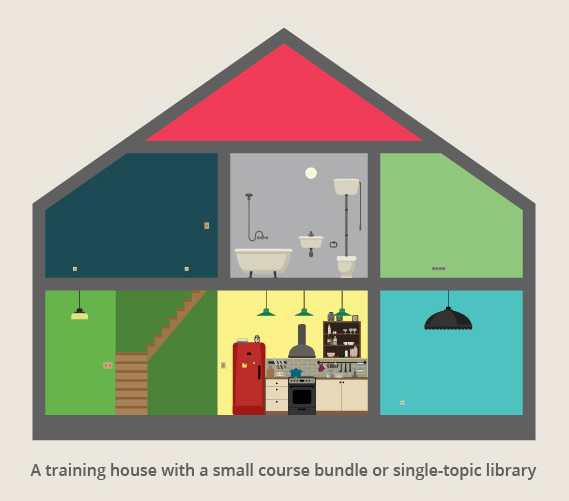 You'll come across these options often when you search for certain topics that matter to your training program. Maybe you're just looking for compliance training or you want to focus on training managers. A small course library or bundle is going to be the middle ground between paying for individual courses and licensing a full library.
If you're just getting started with a training program and want to test the waters, this can be a useful option for licensing quality content at an affordable price. Just be sure it'll be easy to increase that content bundle when you're ready to scale up your training program, so that you don't have to start over with a new provider.
The downside with a narrowly focused content library is that you're only able to address one small aspect of the training needed by your entire workforce. The amount of hard and soft skills needed by employees today is ever-growing and changing, so targeting something like sales training with 50 courses, for example, might satisfy your goals there, but it leaves out an awful lot for the rest of the workforce.
Imagine if your kitchen was fully stocked and furnished with everything necessary to enjoy a lovely meal – but the rest of the house was completely empty. That would be a restaurant, not a house. Still useful, but it misses out on the purpose and potential of the entire space.
Especially since talented employees consider learning opportunities a major factor in where they choose to work, a lack of available content for skill development and career growth can cause them to look at another employer who's willing to provide that.
Obviously, there would be the option to license several targeted content libraries or bundles from separate providers who specialize in their area, but if that's what you're going for, it would be more practical to look into a full library at that point – for better cost value, less time spent managing disparate content, and overall easier administration.
Licensing a Comprehensive Content Library: The Decked-Out Dream House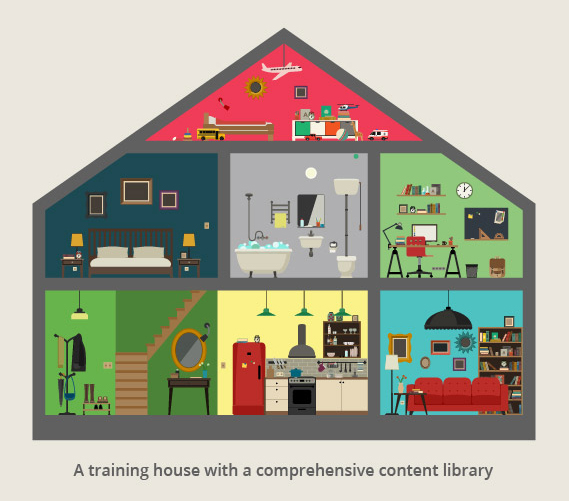 We may be biased when we say this is the best option for providing online training content, but… it's the best option.
Okay okay, maybe that's not true for everyone, but for growing organizations who understand the widespread business benefits of training and want to invest in seeing those kinds of results, a content library that encompasses many skills, job roles, and topics will have the most to offer while often being the most cost-efficient option as well.
When we refer to a "comprehensive" or "full" content library, we're referring to something that has numerous course options on a wide variety of topics – typically it'll have several main topic areas, like compliance, leadership & management, business skills, software, etc. and each of those topic areas will be broken down into sub-topics.
These types of libraries allow organizations to offer training that runs the gamut from general compliance training (like sexual harassment prevention) to super targeted skill building (like learning specific functions in Excel).
That means this kind of library typically includes thousands of course options, so for all that content to be manageable, it should include advanced filtering and search options for both administrators and learners to find exactly what they're looking for.
On top of that, some providers include services for curating specific content for your organization's needs. This means administrators can spend less time finding and selecting the most relevant content for your learners, and ensures you get the most out of the library. At BizLibrary, we call this our Content Concierge service, and it has been a major hit among clients since we launched it. Some providers might charge extra fees for this white-glove service, so be sure to ask about that (if you're looking into BizLibrary, we can answer that right now – it's included for all clients at no extra cost).
The biggest benefit from licensing a comprehensive content library is the vast potential for addressing business challenges.
There's really no end to what you can do with this kind of learning and development at employees' fingertips. Improving employee retention, solving compliance challenges, upskilling and reskilling – whatever your business goals, you can use a full library to lead your teams toward those results.
Picture the kind of house that would entice your guests to hang out and truly enjoy themselves – comfy seating everywhere, tables where they can play games together, a beautiful patio, all the amenities to cook delicious meals, maybe even an in-home movie theater – just imagine what fostering that kind of engagement through a large online learning library could do for your training program!
Where Does BizLibrary Fit in Here?
So… there are a lot of options out there for online learning solutions. You get it, that's why you're here looking for guidance.
If it hasn't been clear already, BizLibrary is one of those solutions! Maybe you're already working with one of our account executives to determine if we're the right fit for your training and development needs, but if you're not, allow us to clarify where our solutions fit into this mix of endless options.
BizLibrary is a great fit for organizations who are looking for:
Either a targeted or comprehensive content library, which can be licensed on its own or bundled with our learning platform
An LMS that also includes content, and has the capabilities of an LXP and a skill-building platform
An ongoing partnership that ensures training is given all the support it needs
A training "house" from BizLibrary is perfect for mid-market buyers who are looking for the complete package without breaking the bank. It has a solid supporting structure, it's professionally designed to be both practical and enjoyable, and it includes all the high-quality furnishings that make people want to visit over and over again. And that's what a home is all about – the people.
If we sound like a fit for your training program, request a demo with our learning experts to see our platform and content in action, and learn how we can help you solve your toughest business challenges.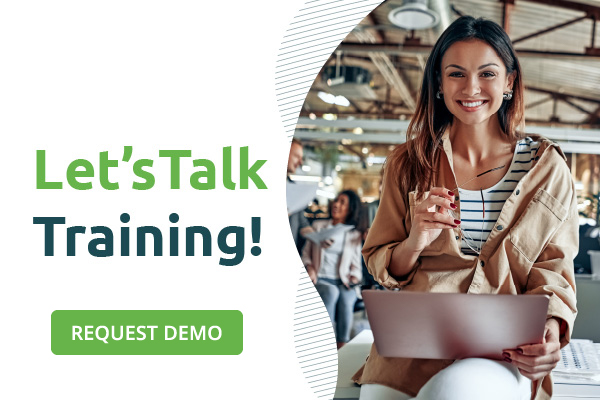 What's Next?
If you're ready for some real numbers, you'll find those in part two of this blog series.
There's a lot that goes into this topic, so we wanted to ensure your search for solutions starts with a strong foundational understanding of the online training marketplace before we get into the pricing structures and examples of costs you can expect to find.