By Tony Perry
Picture this. You're working on a huge project and suddenly you run across an issue you've never seen before and you're not sure how to solve it. Instead of bothering your manager, you decide to pull up YouTube and start searching for ways others have resolved similar issues in the past. You happen to find a quick two-minute video that not only explains how the issue arose in the first place but also explains how to resolve the issue so that it will never happen again.
If you've done this before then congratulations, you've done what is now classified as learning in the flow of work, or simply put, workflow learning. The experience wasn't overly disruptive and allowed you to move on with your task quickly.
As the business world continues to grapple with how to function during a global pandemic, the focus on providing employee training through some form of exploratory learning has increased dramatically. One of the biggest trends leading the charge is learning in the flow of work.
In Josh Bersin's piece, A New Paradigm For Corporate Training: Learning In The Flow of Work, he cites a recent survey of 4,000+ L&D and business professionals who stated that "getting employees to make more time for learning" is the number one challenge many of them are currently faced with. That same survey also showed that among the learners who responded, 58% wanted to learn "at their own pace" and 49% wanted to learn "in the flow of work."
A more recent study of more than 6,607 L&D and business professionals states that 57% of L&D professionals expect to spend more money on online learning this year as opposed to previous years.
It's important to note that these numbers are only expected to increase now that COVID has pushed many organizations' workforces out of their physical office spaces where employee training normally takes place. What these stats seem to suggest is that trends like workflow learning shouldn't be viewed as fads, or hot topics that come and go, but should be respected as the future of employee training.
If companies want to continue to take employee training seriously, they will need to utilize tools that motivate and enable exploratory, self-paced learning that fits seamlessly into employees' workflow.
What Is Workflow Learning?
Workflow learning simply means having the ability to access an answer or a short piece of learning content that doesn't disrupt your workflow quickly and easily. Workflow learning is commonly referred to as learning in the flow of work – it was originally coined by Josh Bersin two years ago and has since taken the L&D world by storm.
The main point to remember about workflow learning is that learning takes place almost simultaneously as the employee is still working.
What Are the Main Components of Workflow Learning?
For workflow learning to take place, a few things are needed.
First, the learning content must be easily accessible. This means that the information being sought after is easy to find.
In addition to accessibility, content must always be available on any device, and at any time of day.
One last component to workflow learning that cannot be overlooked is relevancy and engagement. It's highly important that the learning content selected is relevant and engaging to the learner. This ensures a positive learning experience and maximum retention of the information.
These three key components – accessibility, relevancy and engagement, and time of need – are the primary driving forces of workflow learning.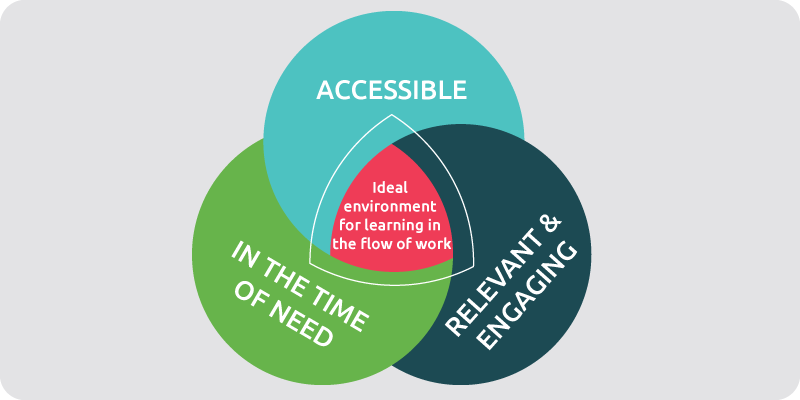 Let's go back to our YouTube example. By using YouTube and keywords that identify the issue we ran into during our big project, we were able to find an answer to our problem within minutes. Not only that, but since the learning content is stored on YouTube, we can access it anytime we need it.
Now YouTube is great, and it definitely has its pros and cons, but be warned, it isn't always content that is thoroughly researched and created by experts, nor is it always safe for work.
Weaving Learning into the Flow of Work
Now that we know what workflow learning is, and what major components are entailed, it's time to share a few ways you can bring workflow learning to your organization.
As we mentioned before, three main components make workflow learning possible: accessibility, relevancy and engagement, and time of need.
BizLibrary's learning platforms offer features that make sourcing and filtering relevant content quick and easy for employees. Employees can either use keywords to search for relevant content offered in our extensive content library, or they can filter content by topic, subtopic, skill level, and more. Both options allow employees the chance to access valuable learning content with just a few clicks of a mouse.
However, unlike content found on YouTube, all of BizLibrary's content is produced and aggregated from experts to ensure accuracy and quality of content is maintained throughout the entire collection.
Once employees find the learning content they need, they can add that content to a playlist making it easy to access for future use.
BizLibrary's learning platforms also allow for a great deal of profile customization. By utilizing certain widgets, employees can rearrange important information in their learning profiles so that valuable learning content can be easily spotted whenever it needs to be referenced.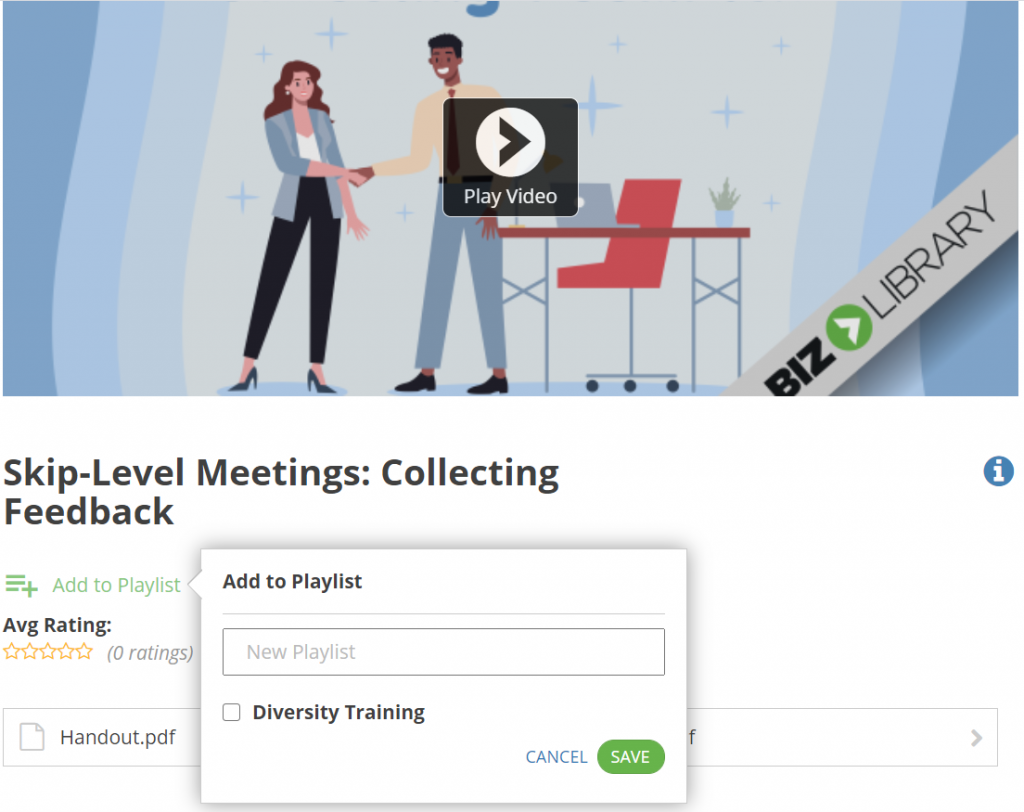 Another great way to encourage workflow learning is by utilizing tools that integrate learning solutions with everyday applications. Let's use BizLibrary's latest Microsoft Teams integration as an example of how this can be achieved.
Since most organizations have switched to working from home, Microsoft Teams has been used to host millions of meetings throughout the world. This also means that employees' number one way to access managers for valuable information is through some sort of communications tool like Microsoft Teams. By allowing managers and others the ability to share learning content via Microsoft Teams, employees can easily access the learning content they're looking for while staying in their regular flow of work.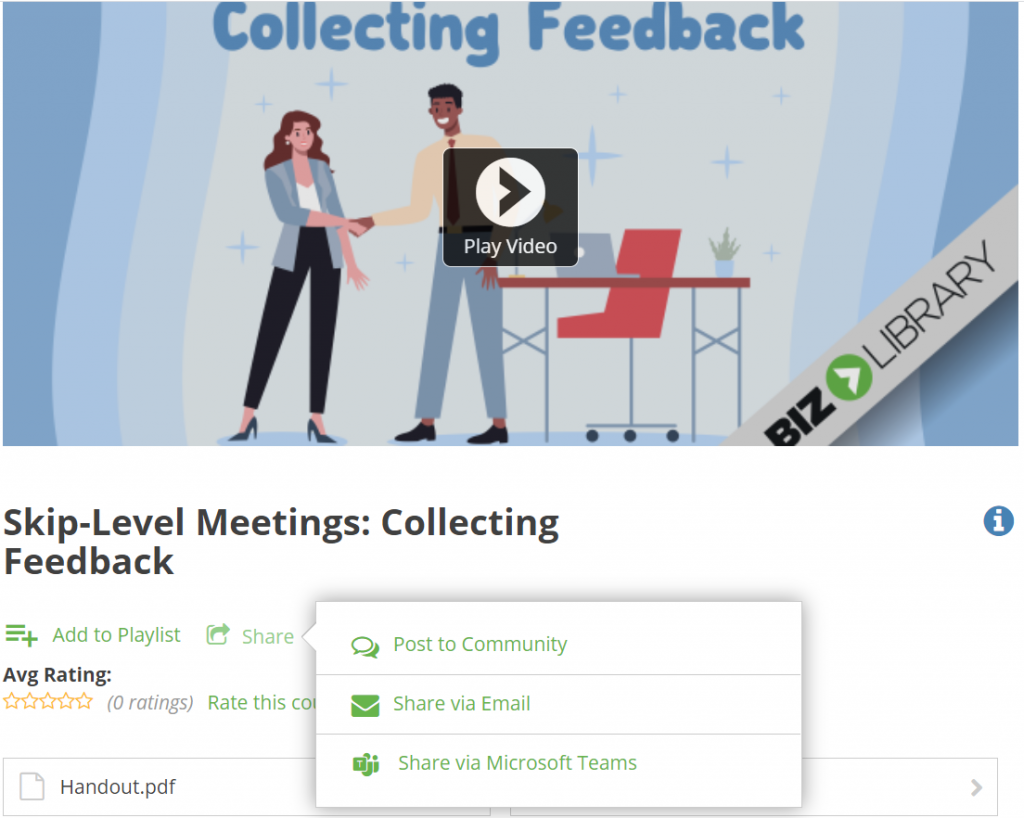 Speaking of speed and easy accessibility, BizLibrary learning platforms also reduce barriers to learning by offering single sign-on like experiences, which make it easier for employees to access learning content anytime without needing to remember or look up login credentials.
What the Future Holds
As our society continues to advance in the information age, the need to solve issues faster and more efficiently will continue to increase. By this time next year, workflow learning will no longer be considered a buzz topic, but will be regarded as a fundamental approach to training for organizations that truly understand the value of investing in their employees' learning.
This also means that companies like BizLibrary will continue to roll out integrations and other learning solutions that encourage exploratory and self-paced learning.
Maybe we'll see more integrations with LMS companies and popular search engines like Google or Bing. Maybe we'll see more LMS companies integrating their learning solutions with popular web browsers like Google Chrome or Internet Explorer?
No one knows for sure what the future holds, but one thing we know for certain is that at BizLibrary, we're committed to leading the charge.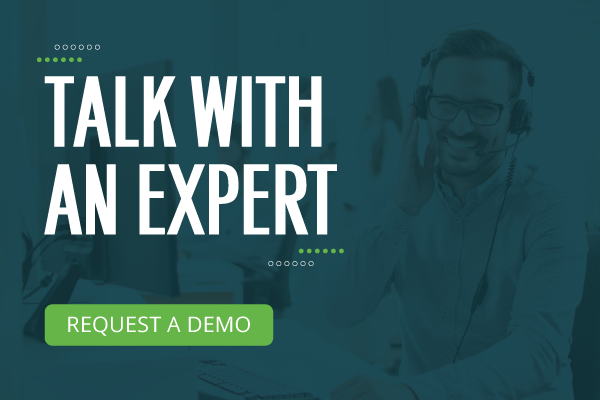 Tony Perry is a learning and development product specialist. Tony writes about the impacts of employee learning on organizations and individuals. He looks at L&D and HR issues and industry trends, and helps organizations understand how to create better training programs that grow their employees and their business.